A personal, profoundly honest collection of Venerable Master Hsing Yun's thoughts on a variety of topics, anecdotes, and memories going back almost 90 years, this book is rich with photographs of the Venerable Master throughout his life, along with many of those whom he has impacted and who have impacted him. Amid gruesome stories of surviving multiple wars, heartwarming tales of his relationships with his mother and grandmother, and the successes and failures of his life as an editor, educator, and the founder of Fo Guang Shan, he offers this essential teaching: give more than you take, in Buddhist practice and in life. 
Print copies are available now!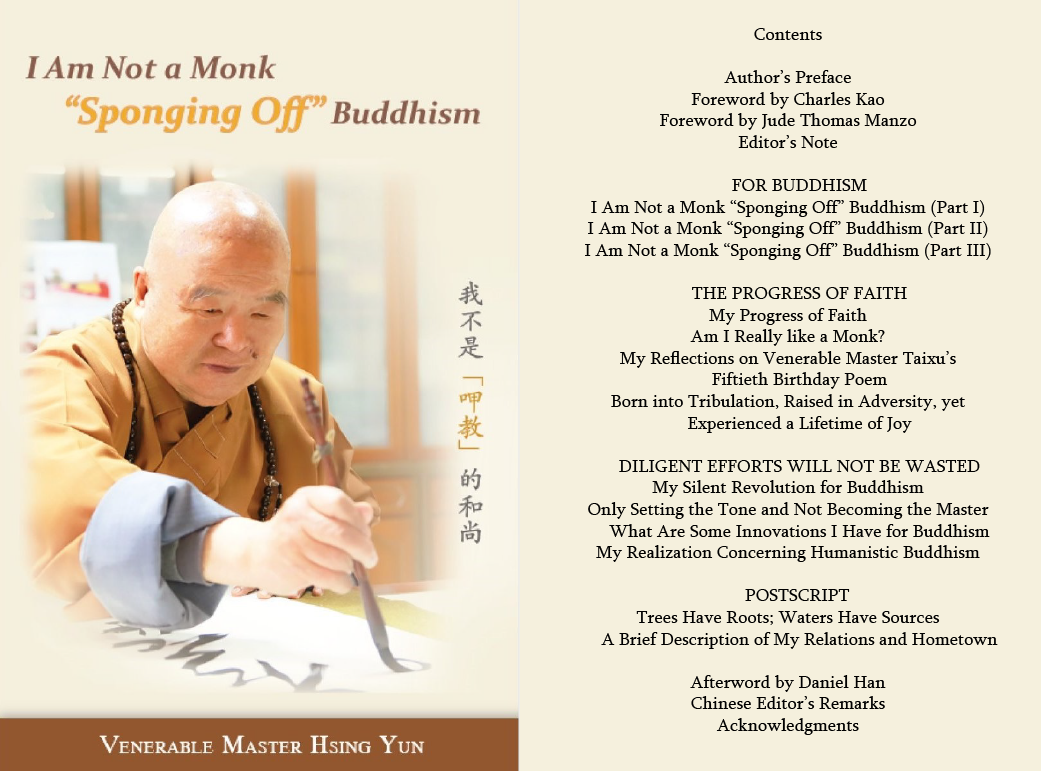 Foreword Clarion Review:
I Am Not a Monk "Sponging Off" Buddhism
by Hsing Yun
Fo Guang Shan International Translation Center (Oct 12, 2021)
978-1-943211-42-5
Clarion Rating: 4 out of 5
Sharing enduring wisdom for the ages, I am Not a Monk "Sponging Off" Buddhism is a ruminative, insightful spiritual leader's memoir.
Hsing Yun's memoir and religious guide I am Not a Monk "Sponging Off" Buddhism reflects on humanistic Buddhism and a lifetime spent promoting it.
This curated essay collection gathers some of Hsing Yun's writings from among his more expansive complete works, picking out entries that focus on his personal experiences teaching Buddhism, after having been raised in poverty in a war torn village. Its accounts of witnessing wild dogs eating corpses, and of Japanese soldiers shoving his grandmother into a canal, are affecting.
Hsing Yun reckons with himself throughout his recollections, as when he chastises himself for being dismissive of his maternal grandmother's old fashioned beliefs: "several years later [I] shockingly realized [my] ignorance and cruelty" after being taught "morality, loving-kindness, and compassion." Now revered as a leading teacher of humanistic Buddhism, Hsing Yun went on to establish one of the country's largest Buddhist organizations; he is credited with reaching innumerable people across the world, aiming to "transform my limited human life into one that is equivalent to three hundred years."
Though the book's discursive, ranging essays alternate between personal memories and spiritual lessons, even its memoir portions dispense wisdom: there are entries that convey the teachings of the Fo Guang Shan Monastery in Taiwan, for example. Hsing Yun also discusses his self-reliance, emphasizing that he has not "made a living off Buddhism," even as he wrote, taught, fed people in need, and founded temples, schools, and orphanages. His story becomes a model of self-respect and similar virtues, all discussed in uplifting terms. It seeks to teach others to be collaborative and compassionate, too, encouraging them to have faith in themselves as beings who can be perfected; such encouragements are complemented by the book's explanations of Buddhist teachings on empathy and responding to kindness. A smattering of prayers, verses, and lyrics are present to reinforce these messages.
Colorful photographs illustrate the work, bringing to life settings like Hsing Yun's home, the monastery that he built, institutions that he started, and publications that he ran. A sweeping image of the Yixing Dajue Temple is shared, too, alongside several examples of Hsing Yun's elegant calligraphy. These juxtapose well with the text's illuminating lecture on enlightenment, transcendence, and other tenets of Humanistic Buddhism, which comes later in the book and clarifies much of its earlier spiritual guidance. With a postscript that revisits Hsing Yun's roots, elucidating how his home, family, and upbringing informed and guided him, this is a satisfying memoir that circles back on itself to reveal the gratification that comes from the propagation of Buddhist precepts.
Ruminative and insightful, the memoir and spiritual guide I am Not a Monk "Sponging Off" Buddhism considers a life spent following and spreading Buddhist principles.
Reviewed by Joseph S. Pete
April 26, 2022
Excerpts from the Author's Preface:
"Buddhism depends upon me" has been a guiding light for my entire life.
I was born during the chaos of war, and although I experienced hardships in my life, I give thanks to my parents for bestowing a compassionate nature upon me. Even as a child, I cared for and protected little animals, and I enjoyed helping others. After I joined the monastic order at the age of twelve, the strict and domineering education of the monastery instilled in me an accommodating personality: I do not fear difficulty or adversity in doing anything. I am now ninety-three years old [2019*] and have been a monastic for more than eighty years. If I were to sum up my life, I think the phrase "born into tribulation, raised in adversity, yet experienced a lifetime of joy" would serve as an adequate account of it.
I have spent my entire life promoting Humanistic Buddhism, and I always encouraged myself with the words "live three hundred years' worth of life," so I have never ceased in my efforts for Buddhism.
Aging, sickness, death, and rebirth are natural phenomena; so too will the body of flesh experience times when sicknesses must be healed. At the end of 2016, owing to over-exhaustion, I suffered a brain hemorrhage and underwent an operation. I am grateful to Chen Chao-Long, honorary director of the Kaohsiung Chang Gung Memorial Hospital, who helped me by leading the medical treatment team. I am also grateful for the blessings invoked by all the people connected to me throughout the world, for it was by such means that I was restored to health. I have made sickness my friend and taken patience as my strength throughout this life; I really do not feel I have suffered any pain, only some inconveniences. Nothing hinders my heart, and I remain free and at ease, for there is only joy and happiness.
I have made sickness my friend and taken patience as my strength throughout this life
During my convalescence, my disciples told me that everybody warmly received the Complete Works of Venerable Master Hsing Yun as soon as it was published, and it has now already gone into its third printing. But a work that encompasses a total of three hundred and sixty-five volumes is really too enormous, and it is unclear with which volume one should begin. My disciples wondered if it were possible for me to select a few articles from the collection that focus on my own experiences and publish them as a separate volume, serving as a standard upon which their practice of Buddhism could rely. What I have spent my entire life saying and writing is also what I have been doing myself. If it can be of benefit to everyone and is helpful to Buddhism, then, of course, I would happily see it accomplished. I have heard from the editor Miss Tsai Meng-Hua that this work, I Am Not a Monk "Sponging Off" Buddhism, is ready for publication.
The term "Sponging off Buddhism" means making a living through a dependence upon Buddhism. More than seventy years ago [1949], Venerable Chenkong wrote me a letter from Mount Putuo in Zhejiang Province, and he asked Venerable Zhuyun to deliver it into my hands. He wrote, "Now we Buddhist youth must let 'Buddhism depend upon us,' and not give any thought to how 'we depend upon Buddhism.'" This passage made a deep impression upon me.
Yes, I hope Buddhism depends upon me, for I do not want to depend upon Buddhism, which means that I do not want to be a monk who "sponges off" Buddhism. I promised myself to be someone who repays kindness; furthermore, I vowed "to give to others and not expect others to give to me." "Buddhism depends upon me" is a phrase that has become a guiding light in my heart, and I am always encouraged by it, for it makes my heart shine more brightly and enhances the power of my faith.

– Venerable Master Hsing Yun (excerpt from the Author's Preface)

*The original Chinese edition of this book was published in 2019.
The Author's Preface, Forewords, Afterword, and Chinese Editor's Remarks are available to read online.
Chapter Previews from I Am Not a Monk "Sponging Off" Buddhism: